1ST BATTALION STOOTTROEPERS

INDONESIA


These photographs belong to
Mr. HEIN VERBRUGGE
Platoon Commander
of the 1st Battalion Stoottroepers


I was sent the actual photographs by Mr. Verbrugge to scan and to keep so I could have them to put on my site. I am so honoured that he has entrusted these to me because I know that each photograph, no matter how many a man has, has a special meaning and a memory with it so for Mr. Verbrugge to part with these means a great deal to me.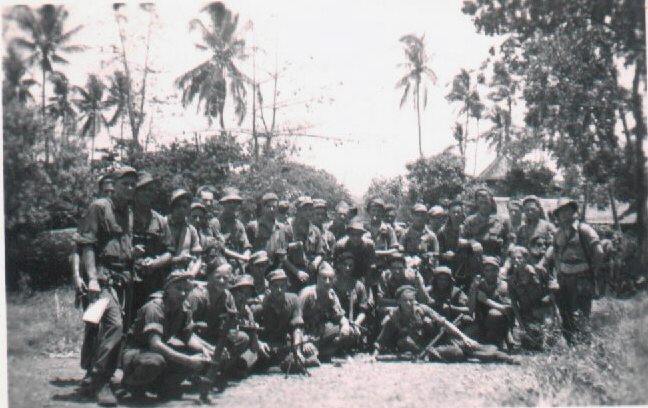 Semarang January 6th, 1947. A complete combat patrol left with patrol commander Ensign Maessen.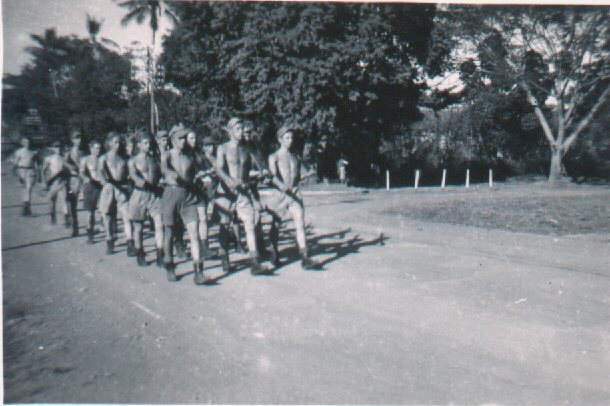 Semarang 1946 drill at camp Djatingalee. (Drill was nicknamed Square Bashing)
font row left to right Leo Jarrsma, Arie Djkstra and Janus Kerssens.


(according to my Daddy, he told my mom he always got stuck bringing up the rear because he was so short so that guy strutting along at the back of the line by himself might be my Dad, but I'm not sure.)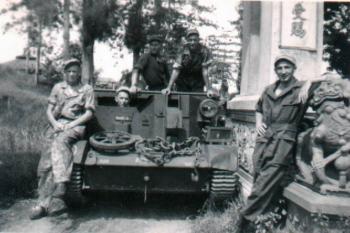 Semarang March 20th, 1947 at the Chinese Gate From Left to Right Corp. Jaarsma, Sgt. Klijbergen, Sgt. Maj. Verbrugge(center back), Rohn de Kloe and Cpl. Kerssens.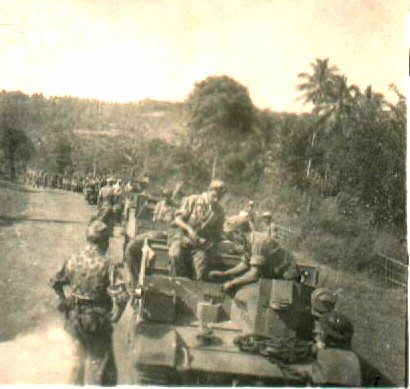 Carriers advancing on Salatiga August 8th, 1947
The tall man in the foreground is Sgt. Bill Kamping.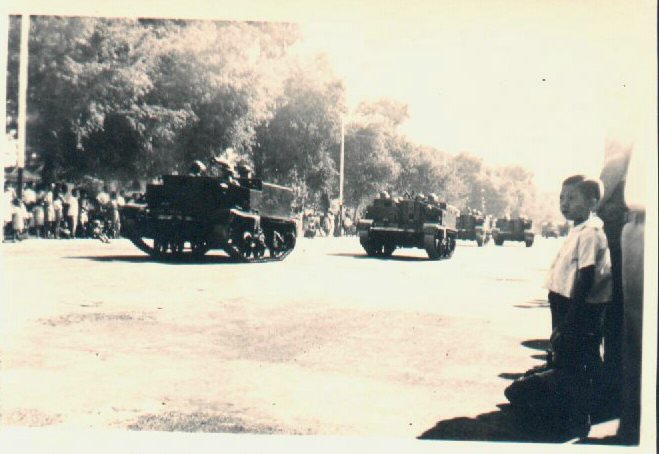 Java Semarang June 1947
Parade on the Bodjong, the main street of Semarang.

Mr. Marinus (Mac) Traas' send me a copy of his story about Hein Verbrugge's Speedy Parade to use on my site and this page below Mr. Verbrugge's photo of that parade seemed the perfect place. My dad would have been in this parade driving one of the brencarriers and I'm sure he loved this parade and would have had a huge smile on his face.

SPEEDY PARADE
© Marinus (Mac) Traas

"Tomorrow morning we have to drive in a parade." Sergeant Major Hein Verbrugge, our carrier platoon leader (we call him Heintje), the jovial best-liked N.C.O. (Non Commissioned Officer)in the army is briefing us on our duties for today and upcoming jobs for tomorrow.

A groan goes up from the assembled men as they realize the extra work involved in getting our carriers in the spit and polish condition for a parade. Our schedules and patrol work have been extremely heavy in the last few months, and any extra work is not welcomed.

"Relax," Heintje says, "We can parade in field condition." That means that all we have to do is load the carriers as laid out in the field instructions.
The brass wants to show off, and the Queen's birthday festivities in Holland are as good an execuse as any.

Heintje is a guy from Limburg, and in our first battalion of the Regiment Stoottroepen there is a curious mixture of Mollen and Snoeken. The Mollen (moles, so-called because they come from the coal mine district, and are mostly miners). They are predominantly Roman Catholics. Those are the men that were liberated in September 1944 by the American Army, and joined that army into Germany until the end of the war. After that they had volunteered for the Dutch army to go to the Pacific theatre. The Snoeken (fish heads, so-called because they come from the North of the big rivers, where the fishing industry is) are predominantly Protestants. These are the men that were not liberated until the end of the war in 1945. They also had volunteered for the Dutch army to fight in the Pacific.
There was never a problem on religious ground, but always a friendly competition, and the moniker "Snoeken" or "Mollen" could be used without any acrimony.

Our carrier platoon was an equal mixture, because it had been added out of the whole battalion.
Therefore the Mollen and the Snoeken climbed into their carriers the next morning, and headed out to the Semarang Main Street, the Bodjong led by Heintje, to show their stuff.

Being the leaders of the parade we sedately set off two abreast following Heintje, coming closer to the reviewing stand, Heintje's carrier started to speed up, and we all followed suit, desperately trying to keep lined up. I still see the surprised faces of the bigwigs on the reviewing stand as we roared past. On the way back through a side street we spotted the rest of the parade marching after the big gap left by us.

Coming home after having parked the carriers Heintje said, "There goes my pip," meaning his next promotion.

In spite of this, his promotion to adjutant (the highest rank of an N.C.O.) came through shortly after.
I don't believe that this was accidental. I still believe that this was Heintje tweaking the noses of the brass in resentment for making his men perform on top of their other duties.
This man was never trying to load the men down with senseless work, and the term he used to free the men I cannot print here because it is not fit for non-military ears.

* * * * * * * * * * * * * * * * * * *
Hein Verbrugge passed away September 14, 2004 and will be missed by many, many people including myself. His oldest son, Henk, emailed me this photo of his dad holding him and I felt it should be on this page.