CERTIFICATE
belonging to the
War Commemoration Cross
awarded to: J.M. van Duinhoven

THE MINISTER OF WAR


In view of the Royal Decree dated
6 January 1948, Gazette No I 6
awards to

J.M. van Duinhoven
The War Commemoration Cross
with Clasp


Warfare on Land 1940-1945


The Hague, 31 October 1949




The border around the certificate mentions all the areas where recipients of this medal saw action. Across the top it says: "Clasps for General and Special War Duty" - Netherlands May 1940 - Java Sea 1941-1942 - Dutch East Indies 1941-42 - Mediterranean 1940-45 -Warfare at Sea and on Land - War Escapes - War duty by Merchant and Fishing Fleet 1940-45 - Normandy 1944 - Arnhem-Nijmegen-Walcheren 1944 - East Asia South Pacific 1942-45

THE HISTORY OF THE COMMEMORATIVE WAR CROSS

When in 1943 it became obvious that a favourable outcome of the war was only a matter of time, the Navy Minister porposed the creation of a Sea-Warmedal (Zee-Oorlogsmedaille) of a commemoratie nature, to be awarded after the war. The desire to distinguish combatants from non-combatants led to proposals for a "1940-1943 War Medal" and a "1940-1943 Commemorative Medal" analogous to the British "1939-1943 Star". Six months of active service was to be the minimum requirement.


H.M. Queen Wilhelmina did not approve these proposals when they were submitted to her in December 1943. She wanted to maintain the tradtional Expedition Cross (Cross for Important War Actions, 1869, q.v) without the legend "Voor belangrijke Krijgsverrigtingen", but with the existing ribbon, to which new clasps were to be added, as had already been done with "Timor 1942"


By Royal Decree of 16 March, 1944 this War Commemorative Cross with clasps for war-actions (krijgsverrichtingen) was instituted, to be awarded to those who "had served for at least 6 months, since 10 May, 1940, in the armed forces, merchant navy or civilian air-service and had performed well and shown good conduct"


The actual crosses were to be manufactured after the war, but considerable dissatisfaction was then felt with the original design, which was considered to be obsolete.


Her Majesty wanted the tradition of the Expedition Cross to be continued, but finally permitted her effigy to replace that of King Willem III who had, after all, died nearly 60 years earlier.
Designs were made by the sculptor A. Termote (of Gerritsent&Van Kempen)but these were turned down. The final design(of 2) by Koninklijke Begeer, Voorschoten was accepted by Decree of 10 June, 1947:


It is a cross paty with rounded ended, 40mm and of bronze. The oval medallion in the centre has on the obverse: the effigy of Queen Wilhelmina, facing left, surrounded by a garter with the legend "Voor krijgsverrichtingen". Between the arms, surrounding the medallion, a wreath of oak-leaves;on each arm a "W".
Reverse:plain
Ribbon: 27 mm, orange with green borders(in U-shaped style 40 mm)


Bronze stars with a maximum of 4 on the baton indicate clasps. Crosses were actually handed out between June, 1948 and March 1949. A Decree of 2 November, 1967 put an end to further applications for the cross after 31 December, 1967.

The clasp with one star represents Krijg te land 1940-1945 (actions on land) 6 months of active service in army units. Includes presence on board troop-transports in active war-zones, after June1st, 1940.


Received Posthumously Friday, February 19th, 1999
CROSS FOR ORDER AND PEACE


I received this letter with the medal and certificate.


Some time ago you submitted a request to me regarding the posthumous award of the Medal for Order and Peace to your father, Mr. J.M. van Duinhoven, date of birth 26 January 1920, in connection with his service in the former Netherlands Indies.


An inquire has shown that your late father was indeed eligible for this award.


I am pleased to inform you that, as a mark of respect and appreciation for his efforts in exceptionally difficult circumstances, the Medal for Order and Peace is herewith awarded posthumously.

Yours sincerely,
HEAD, HONOURS AND AWARDS SECTION
P.V.E. Horbowiec
for The Minister of Defense

Order Peace CERTIFICATE
belonging to the
Cross for Order and Peace
presented to: J.M. van Duinhoven

THE MINISTER OF WAR


In view of the Royal Decree dated 12 October 1990
(Nederlandse Staatscourant 1 November 1990 nr. 213)
awards to

J.M. van Duinhoven
Cross of Order and Peace
posthumously to


J.M. van Duinhoven


The Hague, 19 February 1999




THE HISTORY OF THE CROSS FOR ORDER AND PEACE

Instituted by Royal Decree of 2 December 1947 as an award for those serving in the Army, Navy or Indian Army (KNIL) and who spent a minimum period of three months on active service in the Dutch East Indies in the period 1945-1949


This is the period in which several "police actions" took place, i.e. operations against the Indonesian nationalist forces. In December 1949 Indonesian independence was recognized and all troops were withdrawn and disbanded.


The decoration is a bronze star with eight points, 41 mm across.
The topmost point is replaced by two crossed swords, surmounted by a Royal Crown.


The obverse centre shows a stylized W, surrounded by a garter with the legend: "Orde-Verde" (Order,Peace).
The reverse is plain, with a manufacturer's mark (Kon.Begeer)
The ribbon has five equal stripes red/white/blue/white/red (27 mm, court-mounted 28 mm wide). Number awarded: about 100,000

CERTIFICATE FOR BADGE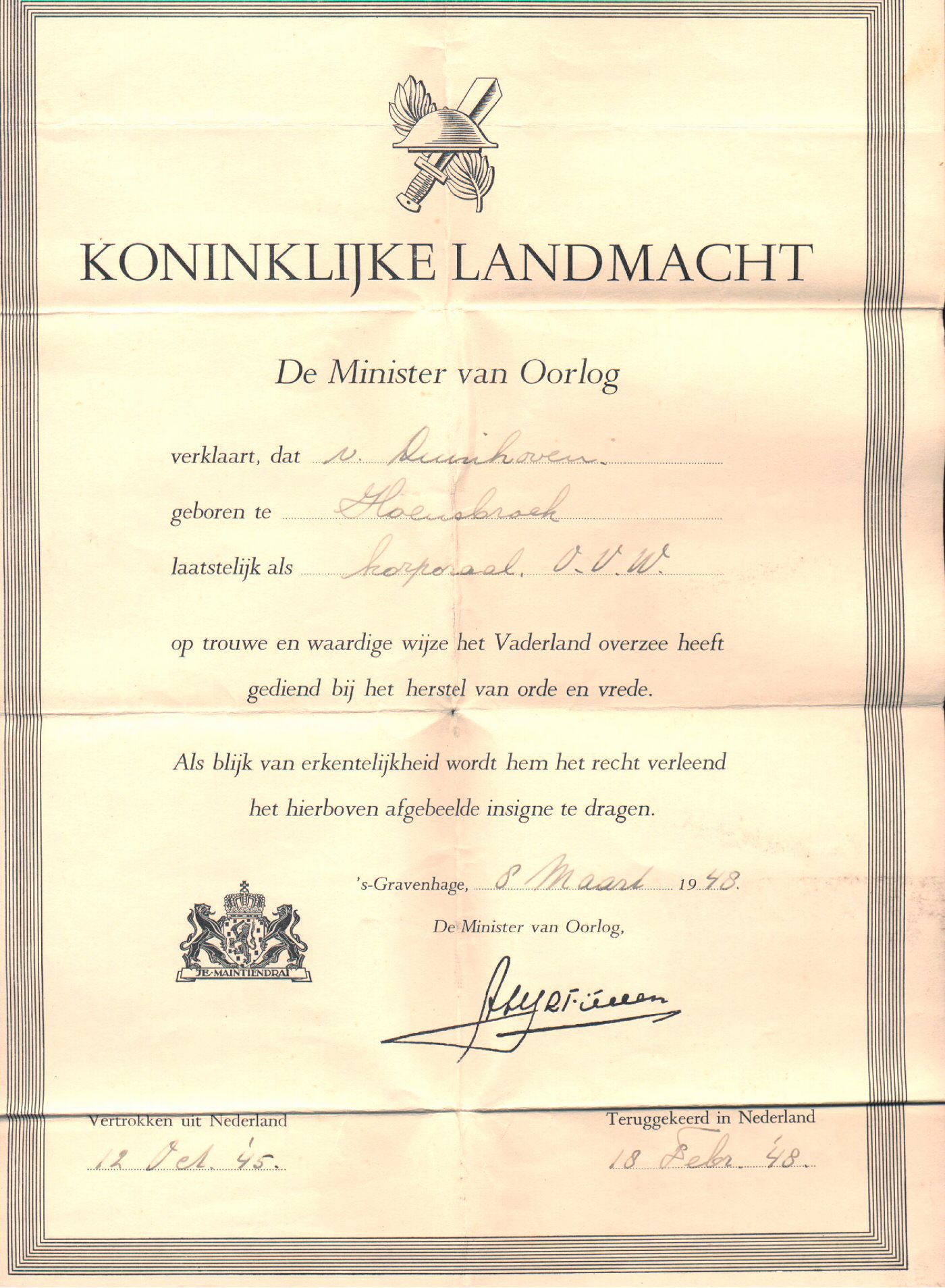 This certificate was given for the action he saw in the Dutch East Indies. With this my dad would have received cloth badge to be worn as part of his uniform.
ROYAL NETHERLANDS ARMY

The Minister of War
declares that
van Duinhoven, born at Hoensbroek,
lastly in the rank of a Corporal Volunteer,
has served the Fatherland overseas
in a faithful and dignified way
to restore order and peace.
As a token of gratitude he is entitled
to wear the badge depicted here above,


The Hague March 8th, 1948
The Minister of War.

Translation Experts Ltd. is pleased to provide this link to the InterTran (tm) multi-language translation system for webpages and text. The translations are not perfect but they can give you a general idea of what is being communicated. Some of the languages have more limited lexicons then others so the quality of translation can vary between the languages. We always suggest that if you need critical translations hire a translators or take the time to learn the language that they want to communicate in. Any text or webpages that are translated will appear within this webpage frame. Some of the languages will need additonal support for specific fonts.